Reaction Distillation Unit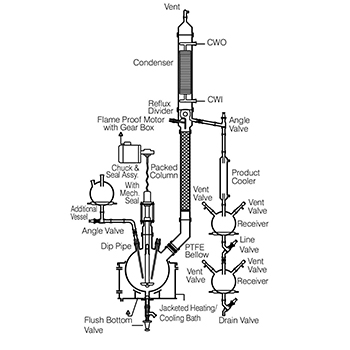 A Reaction Distillation Unit is used to complete the process of reactive distillation which is basically all about separating a product from its reaction mixture. Here, the chemical reactor is also still, and the separation of the reactive mixture does not need a separate distillation which helps the reaction distillation unit become an energy efficient product. Our reaction distillation units are created for people who need versatility when it comes to their products that are used in their labs or industries. These reaction distillation units are manufactured to help serve a combination of uses, as an individual reaction or distillation unit or for a combination of plant work. 
A standard reaction distillation unit comes fitted with a metal heating and cooling bath which is equipped to handle both heating and cooling of materials with the use of necessary fluids. It also comprises a mechanical seal, a side neck with a packed column, a reflux divider, coil condenser and a great receiver system. The receiver system comes along with a speed variator thus making the entire reaction distillation unit a very flexible one. Our reaction distillation unit is well equipped to perform consistently under either vacuum or under atmospheric pressure.